Is one million dollars enough to retire on?
When you consider the cost of living, record-high property prices and household debt quadrupling in Australia over the past 30 years1, you may be thinking $1 million doesn't go as far as it used to.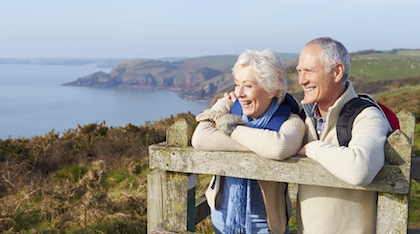 And, as for whether $1 million is enough to cover you in the years after you finish working, that'll really come down to your goals, your circumstances and willingness to plan ahead.
What national benchmarks indicate
Each quarter, the Association of Superannuation Funds of Australia (ASFA) benchmarks the annual budget needed by Australians in retirement.
According to December 2016 figures2, individuals and couples, who are looking to retire today, need the below annual budgets to live a modest or comfortable lifestyle in retirement.
ASFA says a modest lifestyle is considered better than living on the Age Pension, while a comfortable lifestyle means someone can afford a good standard of living, be involved in a broad range of leisure and recreational activities, and travel domestically and occasionally internationally.3
Data assumes people are around age 65, own their home outright and are in relatively good health.
| Lifestyle | Status | Annual budget needed |
| --- | --- | --- |
| Comfortable | Couple | $59,808 |
| Comfortable | Single | $43,538 |
| Modest | Couple | $34,687 |
| Modest | Single | $24,108 |
Things to factor in
While national benchmarks can be a good point for comparison, how much you'll need for your own retirement is very personal and will depend on your own situation.
The question you need to ask yourself is—what number will work for me? And, AMP's "What's my number?" calculator might be a good starting point if you want to crunch the numbers.
Meanwhile, here are some other things to think about that could impact how much money you'll need in retirement.
Your day-to-day spending habits
Start by looking at your lifestyle now. Consider how you live and the costs, and then think about how you're likely to want to live and spend your time once you retire.
Preferred recreational activities and hobbies
Australians are living and remaining active for a lot longer, so give some thought to your general physical and mental wellbeing, and whether you've factored in a bit of extra money to do things you enjoy, which may include various hobbies and sports.
Whether you'll be entering retirement debt-free
Around 78% of 50 to 65 year olds still have household debt4. If you're carrying debt into retirement, consider some ways you can reduce that debt as it could impact the amount of money you have.
If you're eligible for government entitlements
You may be eligible for various government entitlements, such as the Age Pension, so do some research and ensure you're across changes made to the Age Pension assets test.
If you're planning to relocate or downsize
Your living arrangements in retirement should be based on more than just your finances. However, if you're set on moving to a cheaper city or downsizing to release equity, planning ahead could help, particularly if selling your property impacts any Age Pension entitlements you may be eligible for.
The sources of income you'll have access to
For many Australians, superannuation is a major source of income in retirement, next to the government's Age Pension, if you happen to be eligible for it. But, think about whether you have access to any additional income through things such as shares, property, or even an inheritance.
If you plan to make further super contributions
With many Australians needing to fund a longer retirement, more super savings could make a difference and there are a number of ways you can make before and after-tax contributions. If you act before 1 July this year, there are also opportunities you could take advantage of.
Whether you might remain in the workforce for longer
Many seniors are working for longer, with research showing the most common factors influencing people's retirement being financial security and increased life expectancy.
What to do next
The common element to every stage of planning for retirement is change. Things don't stand still―you are changing, legislation changes, and investment markets are changing too.
This is why it's important to regularly re-evaluate your goals, the amount of money you need, and your plans for making retirement something to look forward to.
Contact us on (07) 5593 1215 to discuss planning for your retirement.
Sources:
1, 4 http://media.amp.com.au/phoenix.zhtml?c=219073&p=irol-reportsNATSEMArticle&ID=2121926 p.13 / p.11
2, 3 https://www.superannuation.asn.au/resources/retirement-standard
This article provides general information and hasn't taken your circumstances into account. It's important to consider your particular circumstances before deciding what's right for you. Although the information is from sources considered reliable, we do not guarantee that it is accurate or complete. You should not rely upon it and should seek qualified advice before making any investment decision. Except where liability under any statute cannot be excluded, we do not accept any liability (whether under contract, tort or otherwise) for any resulting loss or damage of the reader or any other person.